Mercer Black Triple Wedge Ankle Boots
So awesome! If only they were sold in my neighbouhood or jsut Sweden in general they would have been in my closet this min ..haha . You can find a pair of them
here
---
APPLE PIE DAY!
Today is baking day at my place, woop woop. I am thinking of baking appelpaj as soon as I get home.

150 g smör
1 dl sirap
1 dl strösocker
2 ägg
2 tsk bakpulver
3 1/2 dl vetemjöl
2 tsk kanel 
3 medelstora äpplen
25 g smör
1/2 dl sirap
2 msk kanel

Smält smöret och blanda i sirap och socker. Låt detta svalna något och rör sedan i äggen, ett i taget. Blanda samman bakpulver, mjöl och kanel och vänd ner det i äggsmeten. Rör smeten helt klumpfri. Klä en liten ugnsfast form med bakplåtspapper och ha i smeten.

Skär äpplena i skivor, smält smöret i en stekpanna, ha i sirap, kanel och äppelskivorna. Låt dem bli genomvarma och lite mjuka, fördela dem jämnt i formen med smet, häll över smöret och sirapen som är kvar i stekpannan.

Äppelskivorna blir extra goda om man steker dem i en klick smör, lite sirap och kanel, men har man riktigt bråttom kan man hoppa över detta och bara krydda dem med kanel och socker!


Grädda i 180 grader i ca 30 minuter. Kakan kan gärna få vara lite kladdig i mitten.
Ät som den är eller servera vaniljvisp eller vaniljglass till.
Bilder och receipt: Linnéas Skafferi
---
D E T A I L S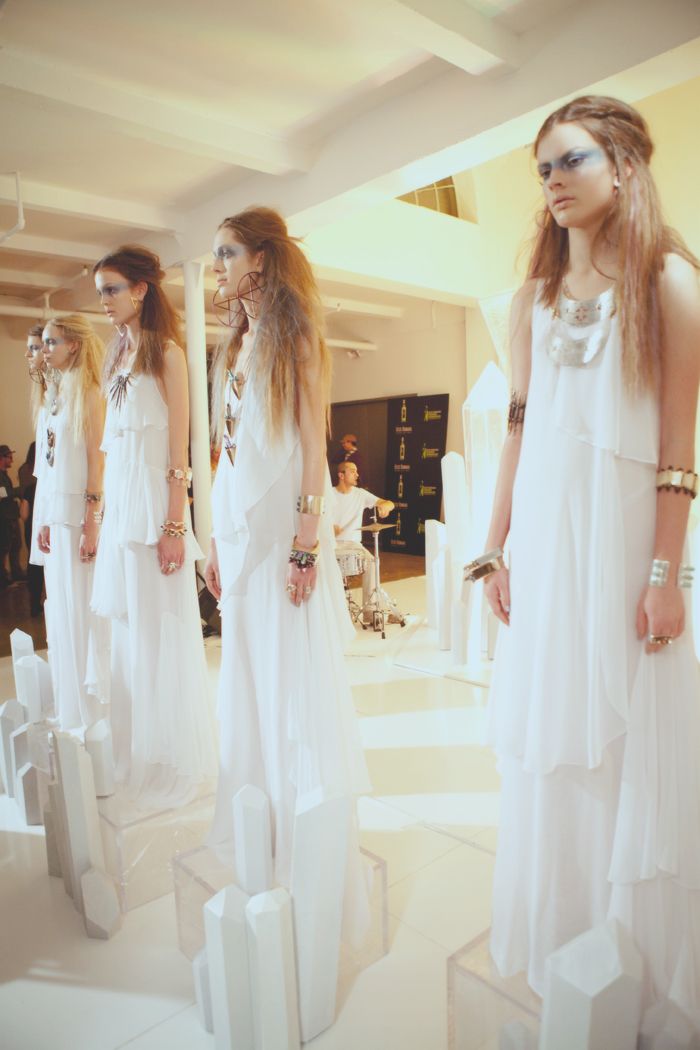 Pictures:
Isablogg
---
Behati Prinsloo & Jamie Strachan
---
I L L U S T R A T I O N S
Pictures:
www.jenniferlilya.com
Here are som fabs illustrations from different designers. Drawing illustration is something that I´ve always want to learn but never really had the time to do so. This year I think I have a chance to do just that after my graduation this summer. I am thinking of taking a course after summer to train my hands.
---